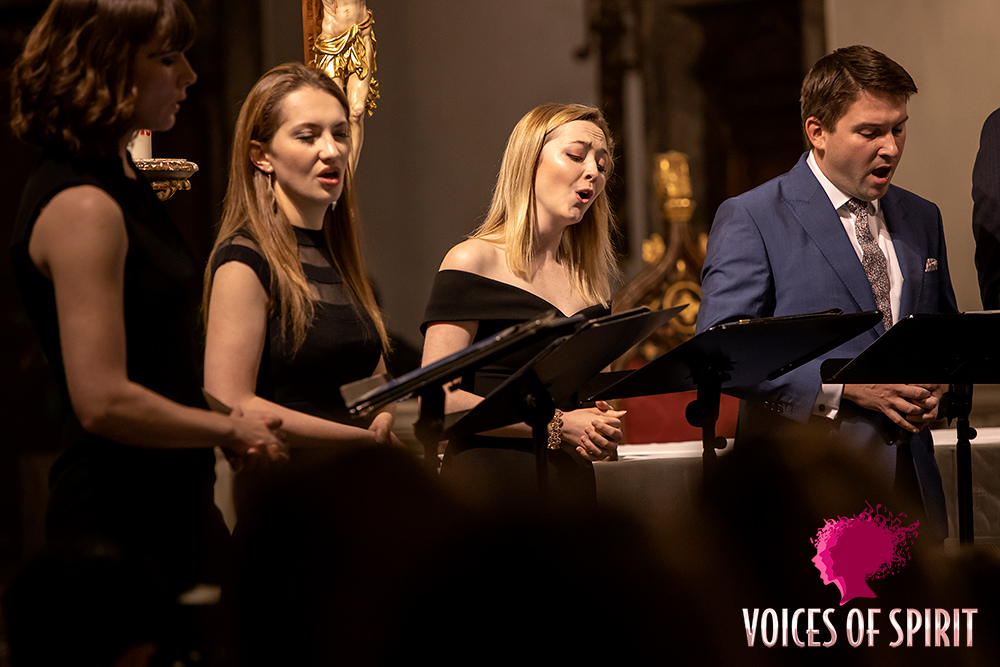 Innerhalb kürzester Zeit hat sich das Londoner Vokaloktett Voces8 an die Spitze der
A-cappella-Welt gesungen. Mit ihren erfrischenden Auftritten, ihren ausgefeilten Programmen und ihrem einzigartigen Klang begeistern die zwei Sängerinnen und sechs Sänger das Publikum immer wieder aufs Neue. Da verwundert es nicht, dass die traditionsreiche britische Zeitschrift "Gramophone" ihnen attestiert, dem Begriff des Ensembles ganz neue Dimensionen hinzugefügt zu haben.
Mit "Lagrime" werden sie ein speziell für "Voices of Spirit" zusammengestelltes Konzertprogramm präsentieren, mit Highlights wie Allegris "Miserere" oder Monteverdis "Sestina".
Andrea Haines | Sopran
Andrea begann ihre Karriere im Jugendprogramm der Royal School of Church Music und schloss sich VOCES8 nach ihrem Abschluss an der Cardiff University an. Die Fähigkeit, noch im höchsten Register eine himmlische Reinheit zu erreichen, hat ihre Stimme zu einer der bekanntesten Facetten des VOCES8-Sounds gemacht.
Andrea began her career as part of the Royal School of Church Music's youth programme and joined VOCES8 fresh from graduating with a Music degree from Cardiff University. Andrea's ability to gain an angelic purity in her higher register has made her voice one of the most recognisable facets of the VOCES8 sound.
Eleonore Cockerham | Alt
Eleonore kam direkt nach ihrem Studium am Royal Northern College of Music zu VOCES8. Ihre Liebe zum Ensemble-Gesang entwickelte sich schon während ihrer Jahre als Chorsängerin an der Knaresborough Parish Church, als sie auch Finalistin des 'BBC Chorister of the Year' war.
Eleonore joined VOCES8 straight from her studies at the Royal Northern College of Music. Her love for ensemble singing developed during her years as a chorister at Knaresborough Parish Church, when she was also a finalist in the BBC Chorister of the Year.
Katie Jeffries-Harries | Alt
Katie begann im Alter von 12 Jahren mit den National Youth Choirs zu singen und ist seither begeisterte Sängerin. Als Alumna von Chethams School of Music studierte sie an der Oxford University mit einem Chor-Stipendium am Somerville College. Bevor sie zu VOCES8 kam, arbeitete Katie zwei Jahre lang freiberuflich als Sängerin und arbeitete mit Amateurchören, unter anderem mit dem preisgekrönten Peterborough Sings! charity.
Katie started singing with the National Youth Choirs when she was 12 and has been hooked ever since. An alumna of Chetham's School of Music, she went on to study Music at Oxford University with a choral scholarship to Somerville College. Prior to joining VOCES8, Katie spent two years freelancing and working with amateur choirs, including the award-winning Peterborough Sings! charity.
Barnaby Smith | Countertenor
Barney ist Mitbegründer von VOCES8 zusammen mit seinem Bruder Paul. Seine musikalische Karriere begann im Chor der Westminster Abbey und sein Studium speziell der Alten Musik absolvierte er an der Schola Cantorum Basiliensis, wo er von Andreas Scholl und Ulrich Messthaler unterrichtet wurde. Als künstlerischer Leiter von VOCES8 hat Barney das Vergnügen, die musikalischen Bemühungen der Gruppe zu unterstützen und ist dafür verantwortlich, die musikalischen Interpretationen von acht Personen in einer Aufführung zu kanalisieren. Als Dirigent war er unter anderem in Zusammenarbeit mit dem London Philharmonic Orchestra und dem Tokyo Philharmonic Orchestra tätig.
Barney co-founded VOCES8 with his brother Paul. His musical career began as a treble in the choir of Westminster Abbey and he completed his studies in Specialist Early Music Performance at the Schola Cantorum Basiliensis, where he was taught by Andreas Scholl and Ulrich Messthaler. As Artistic Director of VOCES8, Barney has the pleasure of facilitating the group's musical endeavours and is responsible for channeling eight people's musical interpretations into one performance. As a conductor his past performances include collaborations with the London Philharmonic Orchestra, Tokyo Philharmonic Orchestra
Sam Dressel | Tenor
Sam war Chorleiter am Gonville und Caius College in Cambridge und studierte an der Universität Französisch und Spanisch. Nach seinem Abschluss im Jahr 2011 arbeitete er ein Jahr in London als freiberuflicher Sänger und Sprachcoach, bevor er mit VOCES8 begann.
Sam was a choral scholar with the choir of Gonville and Caius College, Cambridge, and studied French and Spanish at the university. After graduating in 2011, he spent a year working in London as a freelance singer and linguistic coach before starting with VOCES8.
Blake Morgen | Tenor
Blake stammt ursprünglich aus Detroit, wo er sowohl klassischen Gesang als auch Jazz-Gesang studierte. Nach einer sehr erfolgreichen Karriere, u.a. bei Chanticleer, zog Blake nach Großbritannien, um die Tenorstelle bei VOCES8 zu übernehmen. Wenn er nicht im wahnsinnig improvisierten Scat-Gesang und Barbershop-Tags schwelgt, schwebt Blakes ruhige und leichte hohe Tenorstimme in die Herzen des Publikums.
Blake is a native of Detroit, Michigan where he studied both Classical and Jazz singing. After a very successful career in American A Cappella, singing with supergroups Chanticleer and Cantus, Blake moved to the UK to take up his position in VOCES8. When he isn't indulging in madly improvised scat singing and barbershop tags, Blake's serene and easy high tenor voice floats him into the hearts of the group's audience.
Chris Moore | Bariton
Chris' Liebe zum Singen begann als Chorsänger in seinem örtlichen Kirchenchor und in der Schule. Er kam gleich nach seinem Abschluss an der Universität von Cambridge, wo er Musik studierte und im Trinity College Choir unter Stephen Layton sang, zu VOCES8.
Chris' love of singing began as a chorister in his local church choir and at school. He joined VOCES8 soon after graduating from the University of Cambridge, where he read music and sang in Trinity College Choir under Stephen Layton.
Jonathan Pacey | Bass
Jonathan begann seine musikalische Karriere als Chorsänger in der Kathedrale von Winchester unter David Hill und Andrew Lumsden. Später studierte er Musik am Trinity College in Cambridge, wo er unter Stephen Layton auch als Chorassistent arbeitete.
Jonathan began his musical career as a chorister at Winchester Cathedral under David Hill and Andrew Lumsden. He later read music at Trinity College, Cambridge, where he was a choral scholar under Stephen Layton. He auditioned for VOCES8 while in his final term at university and debuted the day after he finished his degree.